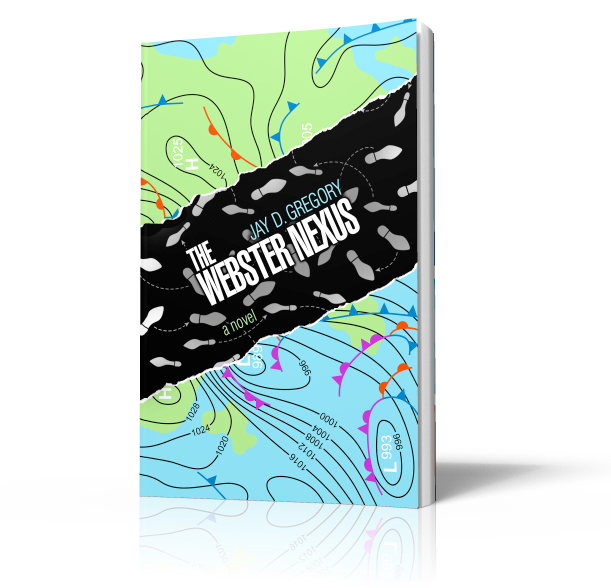 The Webster Nexus
| By Jay D. Gregory
Confronted with the knowledge that he's the linchpin in a strange experiment, Mick Eldritch faces a decision: hang on to the tidy but dysfunctional life he's always known, or take a shot at fulfilling his destiny. Climate scientist Kevin Gerrick discovers a connection between Mick and beautiful music hidden deep within weather patterns, and he suspects Mick's decision could have global implications. A mysterious outsider hints the stakes may be even higher.
From Delta G Press (an imprint of Wyatt-MacKenzie Publishing, Inc.).
---
Praise for The Webster Nexus:
"…prose that's as clever as it is beautiful… intellectually vigorous… Gregory examines happiness and the notion that individuals must envision their own… Both the style and substance of this work should pull fans in for a second read." – Kirkus Reviews
"…reminiscent of Neil Gaiman's classic American Gods… thoroughly enjoyable… Gregory keeps the pace flowing in a way that will appeal to YA enthusiasts… the undeniable philosophical tint of this novel will leave [readers] pondering the story for some time." – Portland Book Review
"…intricately written… a unique and stimulating page-turner… His style is similar to Carl Hiaasen and Christopher Moore, yet this novel distinctly stands on its own. I enjoyed reading every page, and at times found myself laughing out loud…" – Reader Views
"A read that goes in unexpected directions… The Webster Nexus offers a satisfying blend of science and a visionary prescription for healing…" – D. Donovan, Senior Reviewer, Midwest Book Review
---
Music Made for the Book
The novel introduces the concept of "weather music" and describes several examples. Below, you can listen to Kyoto Autumn – an example of weather music as imagined by Eugene, Oregon musician Tyler Morin.